About the Sawtooth Hotel, Stanley Idaho
The Sawtooth Hotel has been a landmark at the west end of Ace of Diamonds Blvd. in Stanley, Idaho, since 1931. It has long been a place where both locals and tourists gathered for meals, conversation, good times, and celebrations. In it's early years, the hotel was a popular place for gambling. In the 1950s, Clarence and Blanch Cole became owners, and it began to solidify it's reputation as the place where locals would go to enjoy breakfasts and games of cribbage. In 1974, Steve and Kathy Cole purchased "The Sawtooth" from Steve's grandparents. For nearly thirty years, the hospitality served up by the Cole's was legendary.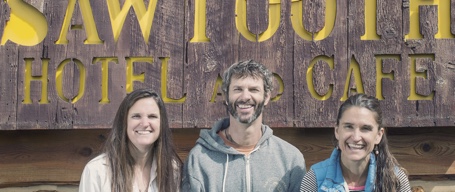 An avid angler, Steve owned and operated Sawtooth Guide Service out of the Sawtooth Hotel. Kathy was the driving force behind the famous sourdough pancake breakfasts and a bookstore located in the corner of the dining room. When Steve and Kathy sold the property to Albertson College in 1997, the Hotel became a campus for students studying creative writing and environmental studies.
In 2005, Kelli Kerns, Becky and Tim Cron purchased the hotel with a dream of restoring the buildings and returning the Sawtooth Hotel to the hospitality business. The buildings were in need of repair, and over time, the project that turned into a labor of love finally opened it's doors again in 2010.